Multisol CEO addresses UKLA Annual Dinner guests
18th November 2019
Multisol Group CEO David Hopkinson addressed guests attending the UKLA (United Kingdom Lubricants Association) Annual Dinner on 6th November in his role as the organisation's President.
The black-tie evening, for which Multisol was principal sponsor, brings together hundreds of the industry's most influential individuals every year for dinner and an evening of entertainment, networking and information on how the UKLA has worked with and for the industry throughout the year.
The UKLA acts as the voice of the UK lubricants industry and is actively engaged with other trade associations, such as UEIL, ORA, UKPIA etc. on matters impacting the industry.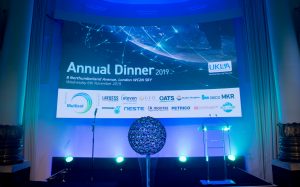 For more information on the the UKLA's Annual Dinner, click here.